Healthcare Management II Microcredential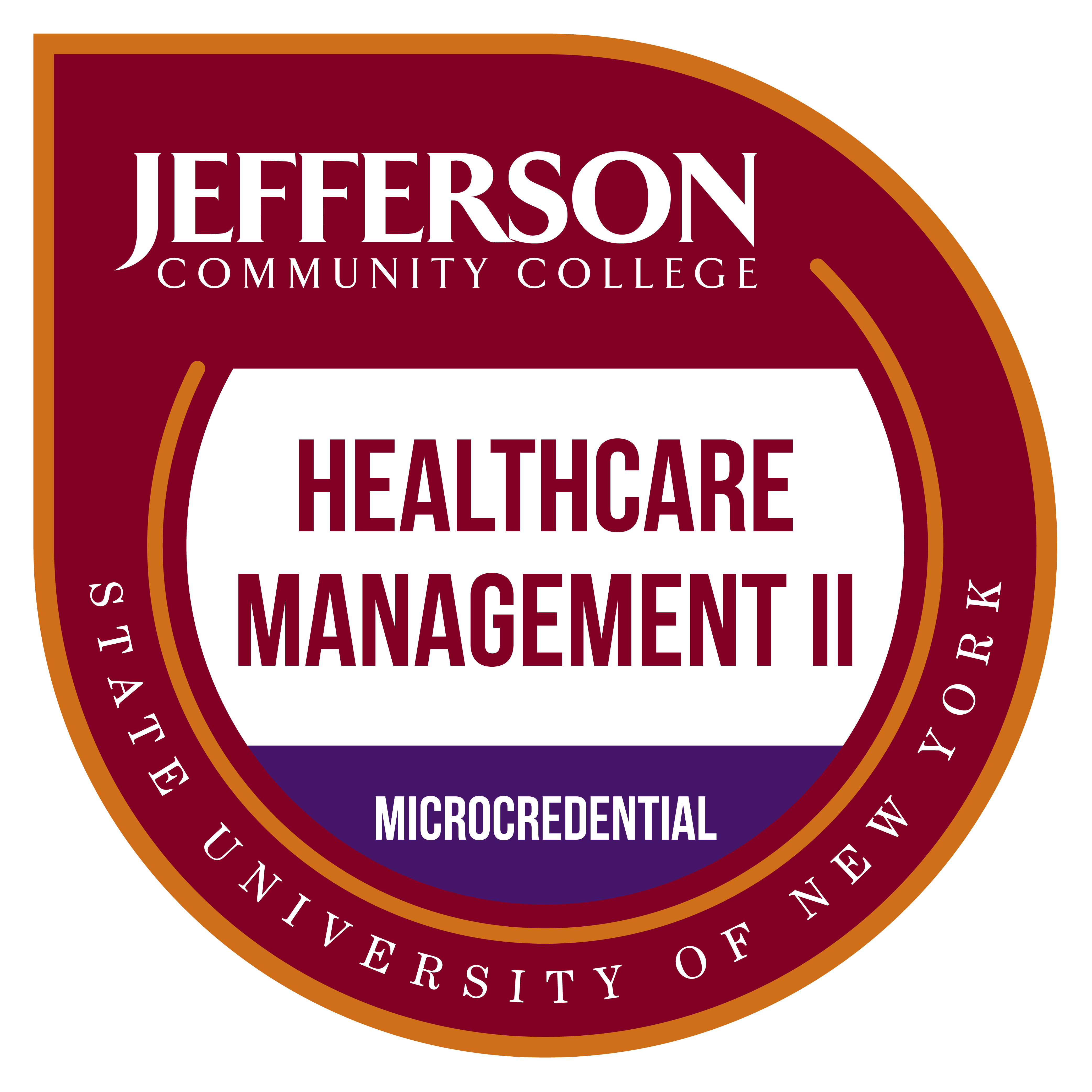 Designed to be meaningful, high-quality education programs to verify, validate and attest to specific skill sets and competencies of an individual, microcredential programs differ from degree and certificate programs in that they are generally offered in shorter or more flexible time spans with a narrow focus.
The microcredential in Health Care Management will enable students to demonstrate competency in various aspects of healthcare office management, with a focus on accounting and finance in the health care industry. A student could complete this microcredential independently of the Health Care Management 1 microcredential. Health Care Management 1 microcredential is not a pre-requisite for this.
Students who complete the Healthcare Management 2 microcredential earn ten college credit hours that may later be transferred to one of Jefferson's certificate or degree programs. Healthcare Management 2 course requirements are a perfect fit for JCC's Health Care Management AS degree program.
When you complete the healthcare management 2 microcredential, you will be able to:
Apply accounting principles utilizing the accounting cycle in a double-entry accounting system for organizations.
Demonstrate knowledge of the core disciplines of healthcare administration: healthcare organization and structure, healthcare finance, healthcare policy, and/or public health to enhance decision making in managing healthcare organizations.
Analyze the role of public health in protecting and improving the health of communities through education, promotion of healthy lifestyles, and research for disease and injury prevention.
Contact Enrollment Services for Application and Admissions Information
Jules Center 6-010 (ground level)
admissions@sunyjefferson.edu
(315) 786-2437, fax (315) 786-2349 or toll free (888) 435-6522
8:00 a.m. - 5:00 p.m. Monday-Thursday
8:00 a.m. - 4:00 p.m. Friday
Microcredential Requirements

| Microcredential Requirements (10 Credit Hours): | Credit Hours |
| --- | --- |
| HCM 110, Intro to the US Health Care System | 3 |
| ACC 101, Accounting Principles | 4 |
| HCM 220, Healthcare Financing | 3 |