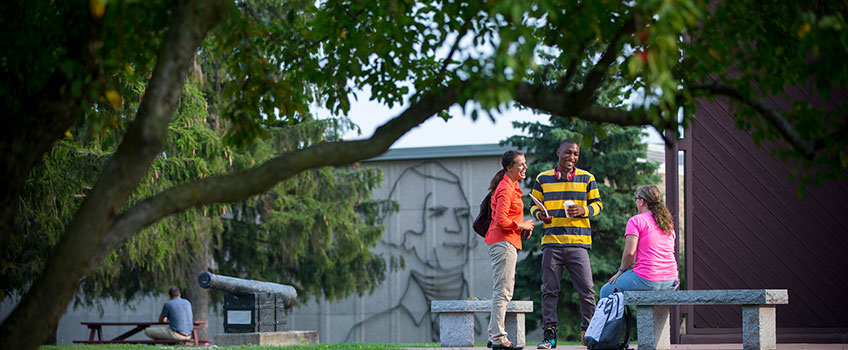 Careers at Jefferson
Current Openings
We are currently hiring for full-time and part-time positions. When applying, please provide all materials that are requested by the deadline noted in the advertisement.
Come work in beautiful northern New York at Jefferson Community College located in Watertown, near the shores of Lake Ontario and the St. Lawrence River. One of 30 community colleges in the State University of New York (SUNY) system, Jefferson serves students pursuing credit courses in liberal arts, business, math, science, allied health and technology for transfer or career purposes. We also offer a multitude of workshops for professional training, personal development and youth.
We hire both full-time and part-time personnel; positions are advertised when available. The instructional calendar includes fall, winter, spring and summer sessions. Although most classes are held on campus, we also teach classes on nearby Fort Drum and at other locations and online. We also have year-round positions for administrative staff, student support services personnel, and staff in the areas of secretarial, accounting, maintenance and finance.
Contact Human Resources
Jefferson Community College
1220 Coffeen Street
Watertown, NY 13601
Lansing Administrative Building (building 1)
Phone: (315) 786-2393 / Fax: (315) 786-2366
humanresources@sunyjefferson.edu
Hours:
Monday - Friday
8:00 a.m. – 4:00 p.m.
Kerry Young
Associate Vice President of Human Resources
(315) 786-2279
Melissa Dennie
Assistant Director of Human Resources
(315) 786-2407
Kathy Tucker
Human Resources Personnel Specialist
(315) 786-2393


Benefits
As a full-time employee of the College, you will receive a comprehensive compensation package. Benefits vary by collective bargaining unit but may include:
Health Insurance (with vision provision)
Prescription Drug Coverage
Retirement Programs
Tax Deferred Annuities
Flexible Spending Accounts
Jefferson Community College Tuition Waiver
SUNY Tuition Assistance
Generous vacation, sick leave, and holiday policies
Dental Insurance (optional)
Life Insurance (optional)
Long-Term Disability (optional)
Employee Assistance Program
Public Service Loan Forgiveness
Types of positions & details
Tenure-track positions in all programs of study.
We recruit faculty nationally, regionally, and locally. National searches may take 8 weeks to complete.
Jefferson advertises with The Chronicle of Higher Education, HigherEducationJobs.com, Watertown Daily Times, Fort Drum, and the NYS Dept. of Labor.
Adjunct faculty teach one to three credit courses in a term as needed.
To apply, you typically must have a bachelor's degree or higher in the subject area to be taught; however, in many career-related courses, such as paramedic, hospitality and tourism or workshops, an associate's degree or certification may be all that is required.
Current openings list immediate needs, but you may apply to teach in any area of study at any time.
Teach students at a distance, including active duty service members stationed around the world.
You must have prior training in the College's course management system and pedagogy.
Currently, only those who have received training at Jefferson or another SUNY campus are eligible to teach online for the College.
Teach non-credit workshops for professional development and personal enrichment (i.e. technology, notary public prep, cooking, dance, etc.)
Instruct kids workshops during K-12 school vacation periods
Submit a letter of interest to Jefferson's Workforce Development & Business Division.
Apply year-round.
Full-time positions in business and student support services may be tenure track and are usually 12-month positions.
We recruit faculty nationally, regionally, and locally.
National searches may take 8 weeks to complete.
Jefferson advertises with The Chronicle of Higher Education, HigherEducationJobs.com, Watertown Daily Times, Fort Drum, and the NYS Dept. of Labor.
Appointed in a variety of areas including student advising and tutoring.
Limited hours yet a rewarding chance to work with students in need of study skills or basic tutoring in English, mathematics, accounting, and science.
To apply, send a letter of interest to Human Resources with a resume and check the current openings.
Apply year-round.
Support staff are secretaries, cleaners, recreation assistants, laboratory assistants, account clerks, computer operators, technicians, stenographers, and maintenance staff.
Hired through the NS Civil Service process and chosen from hiring lists provided from Jefferson County Human Resources, of those who have successfully passed the appropriate competitive civil service examination.
Cleaners, as a labor class, are hired directly by the College. To apply for a cleaning position, please submit a civil service application with a letter indicating interest, to JCC's Human Resources.
Civil Service application application must be completed. This site is also lists civil service administration and examination dates.
Provides financial assistance to help offset college expenses and gain practical work experience.
To see if you are eligible for student employment, contact Student Financial Services at (315) 786-2437.
Visit our student employment page for openings.
Auxiliary services (such as childcare, food services and the bookstore) are managed for Jefferson by the Faculty Student Association.
Positions include accounting, child care and food service.
To learn more about FSA job opportunities, contact the FSA Executive Director at 315-786-2353.

Jefferson Community College is committed to Equal Opportunity and Non-Discrimination in employment and treatment of all individuals without regard to race, color, religion, national origin, creed, age, disability, sex, gender identity, sexual orientation, familial status, pregnancy, predisposing genetic characteristics, military status, domestic violence victim status, or criminal conviction or any other basis prohibited by Federal and state law.