Facilities
Facilities Rental Information
Many College facilities are available for rental. Facilities use requests must be submitted, in writing, to the facilities department, (315) 786-2405 or facilities@sunyjefferson.edu, at least 60 days prior to the event. In general, the College will be unable to make a firm commitment until sixty days prior to the event.
Non-College organizations whose purposes are to provide charitable or public benefit services may charge an admission fee or accept donations subject to pertinent state and local laws. Such intention to charge admission fees or accept donations shall be set forth in the application for use of College facilities. When admission fees are to be charged or donations are to be accepted, the organization shall make it known in all publicity that the proceeds are for the benefit of the organization and not the College.
Upon approval of the request, a written contract will be issued to the organization specifying the physical facilities to be used, the hours of such use, and any service or facilities use fees. Access to the facilities is limited to the times and areas specified in the Agreement. Organizations using College facilities are required to clear the area per agreement
College Facilities
The College campus, located in Watertown, NY, provides excellent facilities for its programs of study. Located on 90 acres near the intersection of Interstate 81 and Coffeen Street (Exit 46), there are ten instructional and administrative buildings, well-maintained athletic fields and ample parking.
Robert F. Lansing Administration Building (1)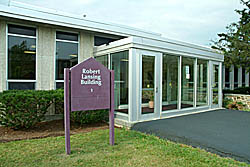 The Lansing Building is the administrative center of the College and houses the offices of the President, Vice President for Academic Affairs, Vice President for Finance, Administration and Enrollment, as well as Financial Operations, Human Resources, Purchasing, the JCC Foundation and the Alumni Association.
Samuel L. Guthrie Building (2)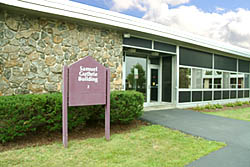 The Guthrie Building houses the School of STEM and Health Professionals. It contains classroom and laboratory space for physics, chemistry, biology, engineering, energy, geology, mathematics, nursing and an amphitheater. All classrooms and labs are electronically-smart. This building also houses the math/science faculty offices, Mail Room and Facilities departments and the Faculty Student Association (FSA) offices.
John F. Foster Dulles Building (3)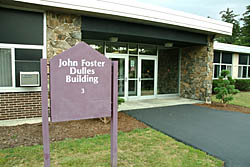 The Dulles Building houses the School of Business and contains accounting labs and general-purpose classrooms, nine smart classrooms, and business faculty offices.
The James E. McVean Student Center (4)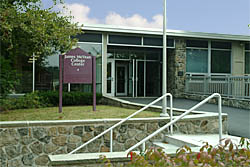 The McVean Student Center houses a large multi-purpose gymnasium including locker rooms, showers and offices. The building provides space for student activities and inclusion, an instructional music room, the Walker Instructional Dining Room and Kitchen, the Courtyard cafeteria, fitness center, dance studio, the Athletic Department offices, a student lounge and the 468-seat Sturtz Theater.


David G. Gregor Building (5)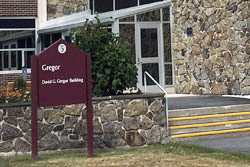 The David G. Gregor Building houses the School of Education, Behavioral Sciences and Public Services. It is the home of the state-of-the-art nursing labs and classrooms, located on the second level. The first level houses liberal arts faculty and classrooms. The ground level houses Institutional Research, Institutional Technology and the College's Center for Professional Excellence.
Jules R. Samann Instructional Resource Center (6)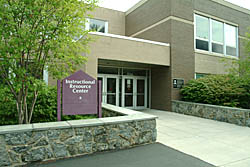 The Jules Center houses the School of Arts and Humanities and offers fourteen general classrooms, five computer classrooms, and a 130-seat amphitheater, all of which are electronically smart. The Jules Center is also the location for the art lab, a 72-station open access computer resource center, meeting rooms, the Boardroom, and the Public Relations Office. Enrollment Services is housed in this building as well, that includes the offices of Admissions, Financial Services and Student Records, New Student Advising, Switchboard and the College Bookstore.
John T. Henderson Child Care Center (8)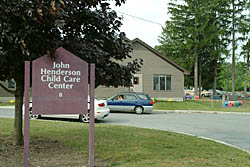 The Child Care Center has three classrooms which can accommodate up to 40 children from 21 months to 5 years old.
Extended Learning Center (E)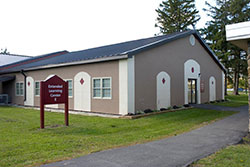 The Extended Learning Center (ELC) was reconfigured in 2009 and includes seven classrooms, a seminar room and a student lounge. The ELC houses Workforce Development, the Higher Education Center (JHEC) and connected partner institutions and the New York State Small Business Development Center (SBDC).
East Hall (14) (H)

The College's first residence hall opened in 2014. It houses 294 students and includes two classrooms, a large group meeting room, a security desk, a technology nook and two large study/social lounges on the main floor. Study lounges are also on each floor in both wings. The offices of Residence Life and Housing staff are located here as well. East Hall is owned by the Faculty Student Association LLC (FSA) at Jefferson Community College (JCC), a non-profit organization that provides ancillary service in support of the College and is operated and managed in partnership with JCC.
John W. Deans Collaborative Learning Center (CLC) (15)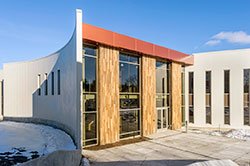 The CLC is a new building on campus, opened in March 2016. Many student services are now located here including College Library, and local history collection on the second level.
On the first level is campus safety and security, veterans services and lounge; career planning and job placement services; STAR/TRiO and EOP services; retention and accommodative services as well as our testing center. In addition to these services, the facility boasts student space with technology for group study and meetings, quiet study space and two classrooms.
Health & Wellness Center (17)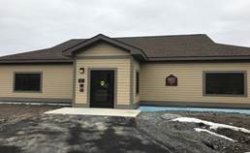 The Health and Wellness Center opened in March 2017. Is operated by North Country Family Health Center and staffed by a licensed physician assistant and licensed clinical mental health professional. Services, available to students on campus at no cost, include but are not limited to: basic care for illness and injuries, annual physicals, health guidance, immunizations and more.
Lewis County - Jefferson Community College Education Center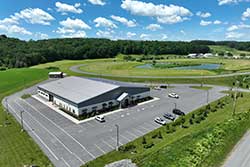 The Lewis County Education Center has a variety of classrooms (28 - 45 capacity) and one conference room (14 - 28 capacity). Each classroom is furnished with a smart board, TV and DVD player, and classroom #1 has a Hybrid-Flexible setup. The Fabrication Laboratory is an open 50'x120' multi-purpose space that can accommodate a multitude of activities, but was designed to be able to hold carpentry, welding, and light industrial programming (100 person capacity).
Learn More
Athletic Facilities
The College offers a baseball diamond, soccer/lacrosse fields, and a walking/running/cross-country skiing trail. Additionally, intramurals are held each semester for students.
Contact us
Facilities Department
(315) 786-2405
facilities@sunyjefferson.edu,