Jefferson Community College Hosts Downtown Revitalization Initiative Project Update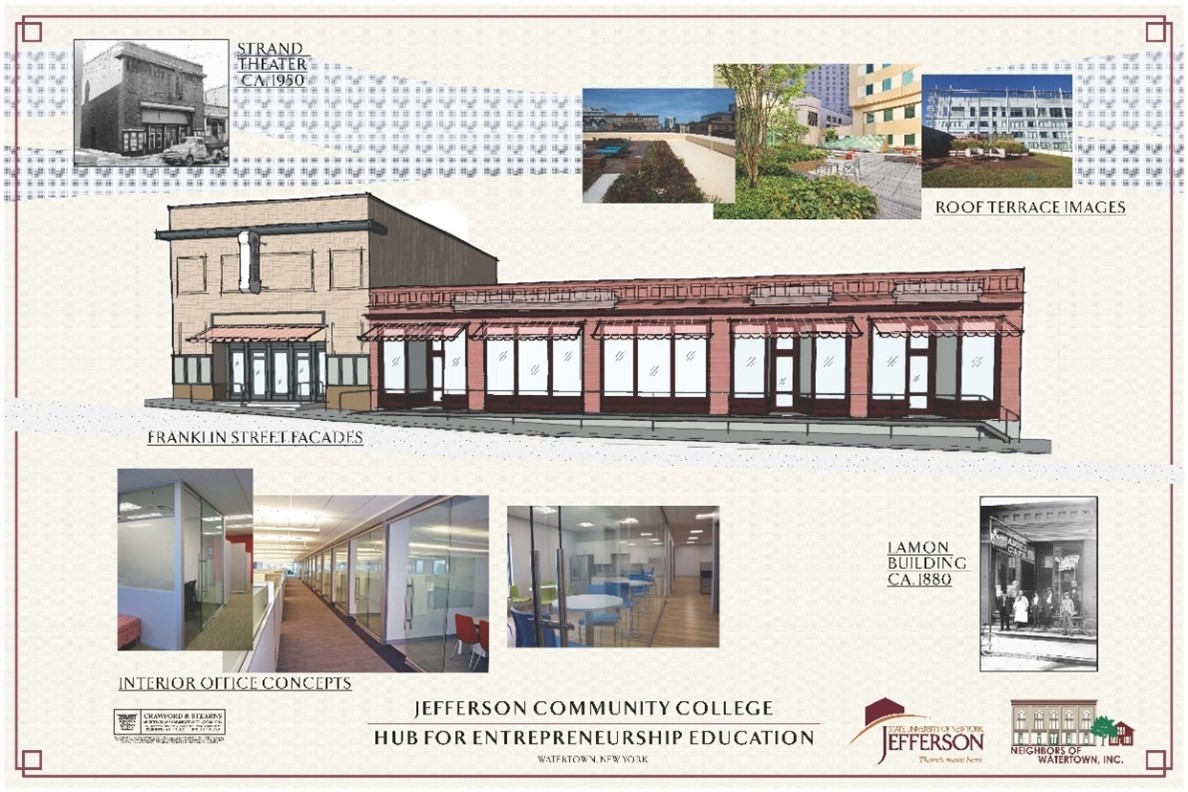 Jefferson Community College (JCC) hosted a tour and project update at the future site of a new entrepreneur center on Franklin Street in the city of Watertown. The project involves a $2.5 million award of Downtown Revitalization Initiative (DRI) funds from New York State. JCC is collaborating on this project with local organization Neighbors of Watertown (NOW) to renovate and repurpose the buildings at 124-136 Franklin Street in downtown Watertown. Secretary of State Robert J. Rodriguez said, "The partnership between SUNY Jefferson and Neighbors of Watertown serves as a creative example of the type of development activities we continue to support through the Downtown Revitalization Initiative. This downtown entrepreneurship center will create new opportunities for students, residents, and businesses alike throughout the North County while attracting activity to downtown Watertown and bolstering the entire region's future economic growth."
Empire State Development (ESD) President, CEO and Commissioner Hope Knight said, "The JCC downtown entrepreneurship center is yet another great example of how the Downtown Revitalization Initiative works to reenergize New York State's cities. This project will renovate existing buildings as workforce development and commercial spaces, bringing new talent and vibrancy to the Watertown city center and ultimately boosting both the local and North Country regional economies."
JCC representatives gave a tour for various community stakeholders including New York Department of State and Empire State Development representatives, Watertown City Council, Jefferson County legislators, the Jefferson Community College Board of Trustees and Foundation Board of Directors, the Neighbors of Watertown Board of Directors, and leadership of the Downtown Business Association and Greater Watertown North Country Chamber of Commerce. Following the tour, the College shared its vision for the space and Neighbors of Watertown provided information on renovation plans for the site. Neighbors of Watertown Executive Director Reginald Schweitzer Jr. stated, "This is an excellent opportunity to redevelop the Lamon and Strand buildings and to preserve their historic character while providing a state-of-the-art workplace at the same time. We look forward to starting construction this summer and expect to be completed in a 12-to-15-month timeframe."
The renovation of the historic building is set to include space for the Small Business Development Center, entrepreneurship education and training, and eight co-working offices. A custom-built audio-visual studio, conference rooms, roof top terrace, and a shared kitchenette are also in the design plans. "This will be a vibrant and modern space, with aspiring entrepreneurs and small businesses learning, exchanging ideas, and growing together in downtown Watertown," explains Dr. Megan Stadler, Associate Vice President for Strategic Initiatives at the College.
During the update, the College shared hopes that the community would provide feedback on proposed names for the space. Logo sketches of four potential names were displayed and a survey link was provided for providing feedback. "Franklin 132" references the address of the building. "The NEST" includes the acronym for Neighbors, Entrepreneurs, Study, Teach and is also a reference to the JCC Cannoneer mascot, which is an eagle. "The Strand Exchange" pays homage to the historic Strand Theater and the concept of exchanging ideas and services in business. "The JET Center" includes the acronym for Jefferson Entrepreneur Training Center and implies new heights for business and progress. College President, Dr. Ty A. Stone states, "This project serves the community, and we want the community's input as we move forward. The final name should be memorable and generate excitement around the revitalization of downtown Watertown. We hope to receive a record number of responses to the naming survey!"
The public is encouraged to provide feedback using this survey, which closes at 5:00 p.m. on Monday, May 30, 2022. A QR code for the survey is provided below.