Business & Career Training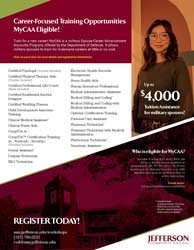 Jefferson strives to meet the demands of our local employers and their workforce needs. We meet with various stakeholders on a continuous basis to determine the needs we can fill through credit bearing (or degree-seeking) and non-credit classes and workshops. We have partnerships through the region that directly benefit our community and our students.
Pre-Certification Allied Health
Our healthcare industry is booming and we are helping to fill these needs with our allied health pre-certification classes.
Professional Growth & Technology
Employers are consistently looking for employees who are willing to learn new things and take initiative. Jefferson's Career Training and Continuing Education workshops are an effective way to learn a skill and build your resume.
Online Training
Jefferson partners with quality online organizations to bring you hundreds of online training courses ranging from technical writing to cybersecurity to project management. These online trainings are available when you need them and on a schedule that works for you!
Workshops
There are no upcoming events or offerings scheduled at this time. Please check back for updated information.
Contact Us
Workforce Development & Business Division
(315) 786-2233
ced@sunyjefferson.edu