Nursing Program Advances, Ranking No. 2 in New York State
Published: January 09, 2023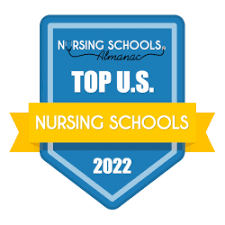 Jefferson Community College (JCC) nursing program is ranked #2 Best Associate Degree in Nursing Programs in New York State by Nursing School Almanac. Advancing one spot in ranking from #3, JCC's nursing program is among 68 associate degree programs in New York.
To help empower aspiring nurses to find the best-suited programs and kick-start their nursing careers, the research team at NSA compiled an extensive database of nursing student performance on the National Council Licensure Examination for Registered Nurses (NCLEX-RN) from 2012 through 2021. Graduates of JCC's nursing program hold a high 95.1% first-time NCLEX pass rate! NCLEX, a licensure requirement of all RNs, is used by state boards across the United States to help assess a student's competency.
Dr. Scott D. Schaeffer, Associate Vice President of the School of STEM and Health Professions at JCC says, "The rigor in our nursing program, our dedicated nursing faculty and staff and our state-of-the-art nursing lab facility is why Jefferson Community College nursing graduates are highly successful when taking the NCLEX! The Covid-19 pandemic tested the strength of our nursing program and all those connected to it. These rankings are an indication that our program remains strong and vital."
Dr. Marie A. Hess, Nurse Administrator at JCC, says, "Being ranked #2 in the state is a testimony to the preparedness of our nursing graduates. It's rewarding to see them pass their NCLEX quickly and consequently starting their nursing careers sooner. Their dedication to the nursing field during this pandemic has been unparalleled. JCC students strive to reach the high standard set by the College and their success speaks to the character rooted in each of them and the quality of care they are capable of providing."
JCC nursing students are taught in state-of-the-art nursing laboratories that were expanded in 2022 thanks to a $100,000 grant secured by former NYS Senator Patty Ritchie, District 48. With the expansion, nursing program enrollment capacity rose by 26%. JCC nursing students gain experiential learning working with eleven life-like manikins, including a birthing mom, and have significant nursing simulation laboratory time resulting in more practice time producing optimum results. Students are inaugurated to the profession of nursing at the College's Annual White Coat Ceremony held in the fall. Top notch clinical rotations are held in partnership with Samaritan Medical Center, Lewis County General Hospital, Upstate Medical University and St. Lawrence Psychiatric Center. Accredited by the Accreditation Commission for Education in Nursing, JCC's nursing degree program can be completed in two years.