JCC & The Arc Jefferson–St. Lawrence Collaborate to Fill Urgent Workforce Need
Published: September 08, 2022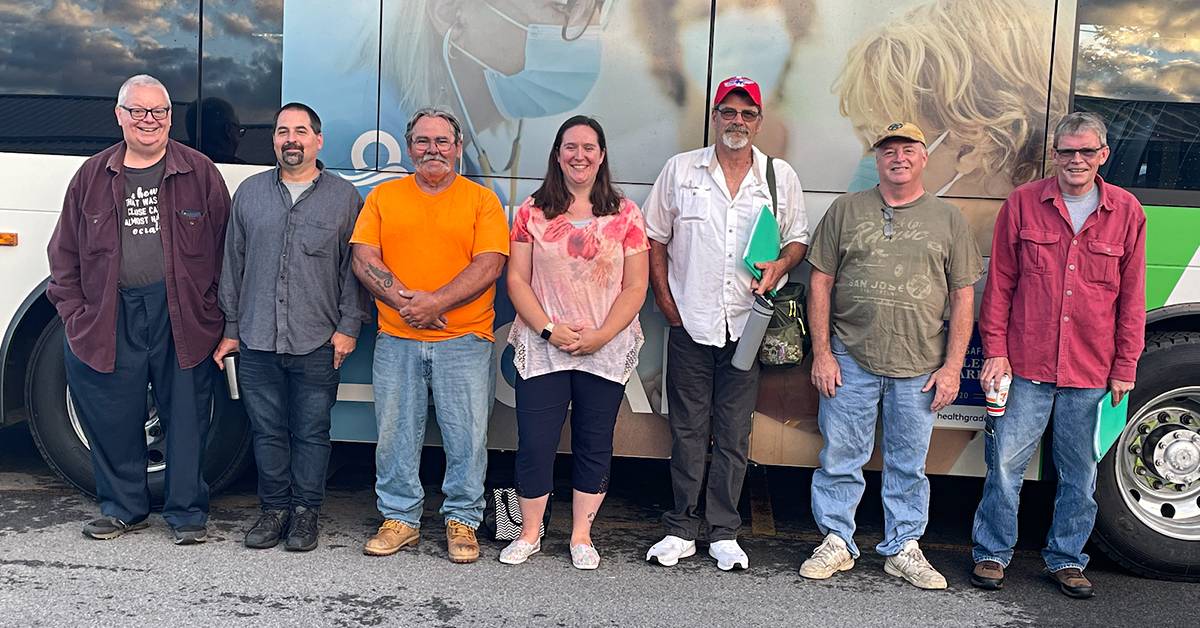 A partnership between Jefferson Community College (JCC) and The Arc Jefferson - St. Lawrence provided free Class B CDL training to prepare public transit drivers in two weeks and filled an urgent workforce need in the North Country.
JCC's Zero to Theory Training for Public Transit Drivers was developed to provide industry-specific instruction for individuals interested in becoming transit bus drivers and gaining full-time employment with The Arc Jefferson – St. Lawrence. The JCC program included Class B and passenger endorsement Entry Level Driver Training (ELDT) and the Class B Commercial Learners Permit (CLP) with air brake and passenger endorsements. After completing 65 hours of training with Jefferson, participants were ready to start the Behind-the-Wheel ELDT with trainers at The Arc Jefferson - St. Lawrence. Participants have 90 days to prepare for their road test and get their Class B CDL. With a Class B CDL, a driver may operate a commercial truck or large bus that weighs more than 26,000 pounds. As an additional incentive, The Arc Jefferson - St. Lawrence is offering sign-on bonuses totaling $1,050 to participants who successfully complete all required training and onboard for employment.
"This partnership with Jefferson Community College will help us address a critical staffing shortage for drivers at The Arc Jefferson – St. Lawrence," stated Howard W. Ganter, Chief Executive Officer of The Arc Jefferson – St. Lawrence. "The community will benefit by additional routes on St. Lawrence County Public Transit and people supported by the agency will have better access to services."
St. Lawrence County Mobility Manager Sonja Jensen says, "The training was designed to make it as easy as possible for students to meet the new CDL requirements, even folks who have never held a CDL before. Encompass Workplace Testing completed the required DOT physical examinations during class time and JCC coordinated with the DMV to reserve permit testing slots in advance ensuring there were no delays in the students' progress."
Program participants are Dawayne A. Alexander of Chase Mills, Elliot J. Brousseau-Griffin of Norwood, Derek A. Derushia of Massena, Bryan G. Dubois of Massena, Abbey N. Hosken of West Stockholm, Dale R. Lashua of Star Lake, Robin G. Oshea of Canton, James C. Parlow of Potsdam, and Allen R. Stewart of Canton.
Associate Vice President of Strategic Initiatives Dr. Megan A. Stadler says, "Jefferson's customized workforce training provides curricula tailored to the direct needs of employers. We help meet employer needs by upskilling current employees or by training a potential pool of employees, which was the case for The Arc. We deliver education on-site, online, and on our campus, wherever best suits the needs of the employer."
Call 315-786-2233 to learn more about Jefferson Community College educational and custom workforce training for employers.