Fall Semester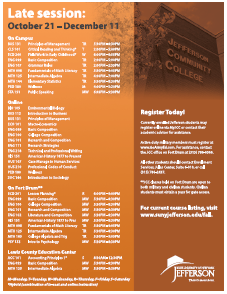 Ready to register for fall classes? You've come to the right place!
We understand that coming to college is an investment of time and money, and your time is valuable so we offer convenient options for you. Take classes in the format that is right for you – traditional daytime, evening, weekend, online, hybrid (combination in-seat and online instruction) - in flexible 8-week and 15-week classes each semester.
Classes are held on campus, online, on Fort Drum and at the Lewis County Education Center in Lowville. Classes at all locations are open to civilian and military students. Civilian students taking a JCC class on Fort Drum must obtain a pass.
Late session (8-week) classes begin October 21, 2019. Registration is open!
Current JCC students should register for late session classes online (view course listing). New and transfer students should contact Enrollment Services at (315) 786-2437 or email admissions@sunyjefferson.edu.
Open House
Friday, October 25, 2019
Preview the open house agenda and RSVP to attend. Questions? Call (315) 786-2437 or email admissions@sunyjefferson.edu.
New applicant? Your next steps are...
Activate your user ID. You must do this before you can successfully complete the rest of your application. You will receive an email from us with this info.
If asked to, complete placement testing before registering for classes.
Check the status of your application.
Meet with your advisor and register for classes.
Live On Campus
A new, all-suite residence hall offers nearly 300 full-time students easy access to class, dining, recreation, and every facet of campus life. Learn more and apply.

Do you live in Jefferson or Lewis County and are you in the top 15% of your graduating high school class? You can get your first year of tuition at Jefferson for free. The Jefferson-Can Community Scholars Program scholarship is for you.
Live on campus
A modern residence hall offers easy access to class and every facet of campus life.

Need Help? Call, email or visit Enrollment Services
Enrollment Services
admissions@sunyjefferson.edu
(315) 786-2437
Jules Center, building 6, suite 6-010

Office Hours
Monday - Thursday, 8:00 a.m. - 5:00 p.m.
Tuesdays, open until 7:00 p.m.
Friday, 8:00 a.m. - 4:00 p.m.