Faculty and Staff Resources
Are you wondering what job or internship opportunities are out there for students? Or maybe you'd like to learn how to integrate career & professional competency development into your courses using meaningful techniques…or perhaps you'd like to sponsor an intern! Here are some helpful resources to get you started!
Looking to hire a Jefferson student to work in your office?
Please review the Student Employment Supervisor Manual to hire a federal work study, student aid worker, or student tutor.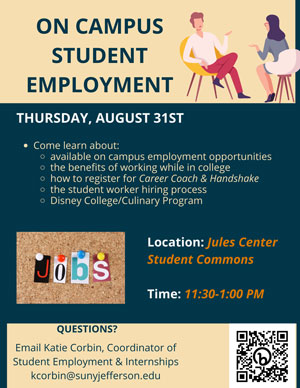 Step 1: Post your opportunity in Handshake.
Step 2: Attend the On-Campus Student Employment Fair Registration Form
Step 3: Hire your student worker!
Request a Class Presentation
Consider infusing all aspects of the career development process into your curriculum by inviting a team member into your class to present on various topics. Experts are available to cover topics such as:
Overview of Career & Professional Education Services
Resume and/or Cover Letter Development (presentations as well as working sessions are both available)
Interview Coaching
Job Search Strategies
LinkedIn / Handshake Training
Customized Presentation to fit class needs
Ready to revise your Syllabi?
Schedule a meeting with the Coordinator of Student Employment & Internships today to revise your syllabi and infuse how each of your student learning outcomes and assignments relate to developing career competencies. You will also receive suggestions of how students can integrate these competencies learned in class when seeking employment opportunities.
Incorporate Career & Professional Development Assignments into your Curriculum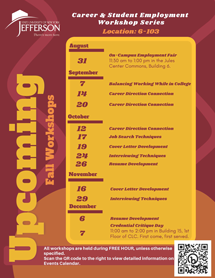 Maybe you'd like your students to schedule a specific personalized appointment with a professional as an assignment. Have you student schedule one today.
Don't Cancel Class
Do you have a planned Conference to attend? Has "life" happened one morning (sickness in the family, emergency, etc.) and you feel like you will have to cancel class? DON'T! Consider contacting the Career & Professional Education Services to inquire if we would be able to "teach" your class for a day instead of cancelling.
Contact Career & Student Employment Services
Deans Collaborative Learning Center, Building 15, first floor.
Katie Corbin
Coordinator of Student Employment and Internships
kcorbin@sunyjefferson.edu
(315) 786-6541
Michele Gefell
(315) 786-2269
Director of Career Planning and Job Placement
mgefell@sunyjefferson.edu
Monday - Friday 8:00 a.m. to 4:00 p.m.
(Summer: Monday - Thursday, 8:00 a.m. to 4:00 p.m., Friday, 8:00 a.m. to 1:00 p.m.)