Sustainability
Sustainability is a core value of the Jefferson Community College Mission. We use resources in responsible ways to achieve balance among our economic, environmental, and social practices and policies.
In 2012, Jefferson signed the American College and University Presidents Climate Commitment (ACUPCC). The ACUPCC is an effort to address global climate disruption undertaken by a network of colleges and universities that have made institutional commitments to accelerate progress towards climate neutrality and sustainability. We have developed a Climate Neutrality Plan which is posted on the ACUPCC website.
On campus, efforts include educating the campus community and modeling sustainable practices while providing hands-on learning for our students.
EverGREEN Committee
The EverGREEN Committee serves the College by promoting sustainability practices and awareness. The committee, comprised of Jefferson faculty, staff and students, meets three times per semester and sponsors special events such as Earth Week, Arbor Day, Campus Clean Up Days, Campus Crunch and the Spring Tree Seedling Sale. For more information or to get involved in the EverGREEN committee please contact Bruce Alexander at balexander@sunyjefferson.edu or Chris Ebey at cebey@sunyjefferson.edu.
Campus Programs, Activities and Special Events
The College offers the following programs, activities and special events on an annual basis:
Earth Week
Jefferson celebrates Earth Week on an annual basis at the end of April to coincide with national Earth Day. With Earth Week, we raise awareness of environmental issues such as sustainability, climate stabilization & population management. Earth Week programming includes daily sustainability lectures, campus trail pick-up and hike, recycling contest, tree and flora identification contests, tree seedling sales, and more!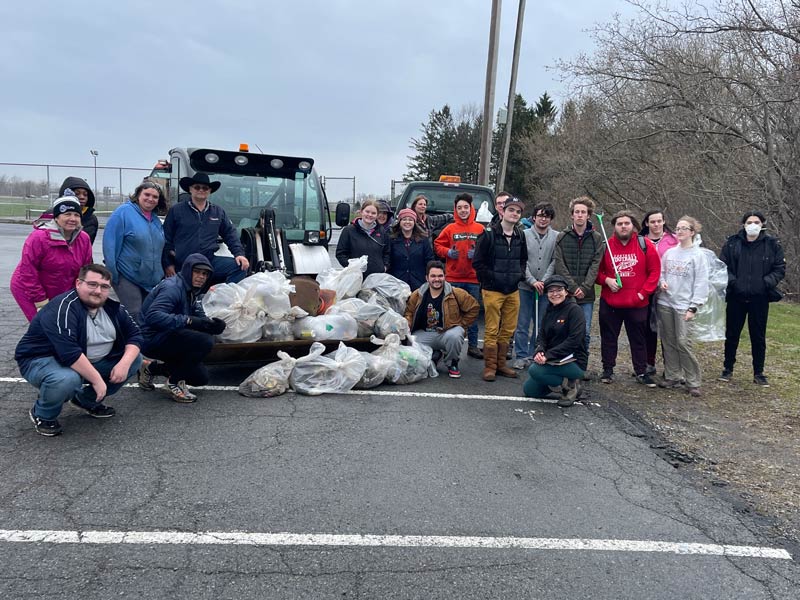 Arbor Day
Each spring, Jefferson celebrates national Arbor Day with a ceremony and tree planting. In 2012, Jefferson was proud to be the official Arbor Day Celebration and tree planting site for the Watertown TREE USA Committee.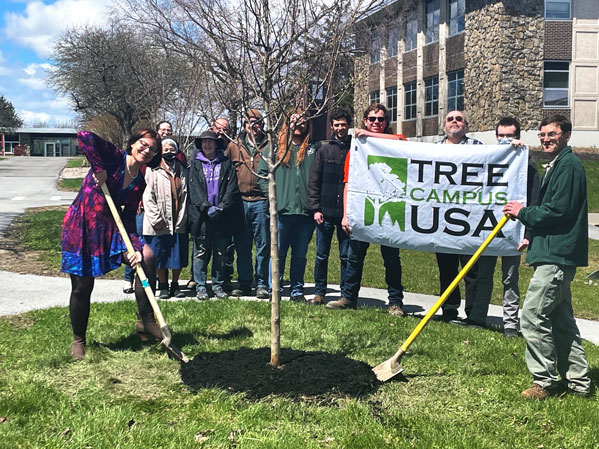 Photo Credit: Alexis Weaver
JCC was first recognized as a TREE Campus USA in 2012 under the direction of Emeritus Matt Lambert. The EverGREEN Committee members unanimously agreed to add the role of the TREE Campus USA Committee to its existing functions and that role has been maintained to the present time. A Tree Care Plan was developed in accordance with TREE Campus USA guidelines and implemented. The plan was updated in 2017 and will be updated again in 2019. The College has worked closely with the City of Watertown, NYSDEC and other area groups involved with preserving local greenspace. The award of a NYSDEC Urban Forestry Grant will significantly help to improve tree management programs on the campus.
Campus Arboretum Trail
The College has established an Arboretum Trail that identifies a diverse selection of tree species that exists on our campus. The primary benefits of the trail are that it raises campus awareness of our natural setting and tree population, it provides outdoor education for our students, it encourages campus members to "take a hike," and provides our TREE Campus USA Committee and facilities staff with an opportunity to monitor species success for planning future tree acquisition.
Tree Seedling Sale
The EverGREEN Committee sponsors an annual tree seedling sale for the campus and local community. Over 3,000 seedlings have been sold and distributed throughout the North Country.
Community Garden
In 2018 students, faculty and staff helped re-establish the JCC Community Garden. The new garden is located behind East Hall.
Pollinator Gardens
The College has planted three pollinator gardens since 2016. A fourth and larger garden was constructed in 2018. This garden features plants that are native species to the Northeastern US. The various plantings can be used as an interactive learning station.
Super Science Saturday
The Committee sets up an informational booth at the annual JCC Super Science Saturday event in February of each year. This event is attended by hundreds of local children and their families.
EverGreen Committee Members
Bruce Alexander - Director of Facilities (Co-Chair)
Dr. Chris Ebey - Assistant Professor of Geology (Co-Chair)
Robert Santamoor - Executive Director Faculty Student Association
Dr. Monica LeClerc - Professor of Biology
Dr. Venkat Chebolu - Professor of Chemistry
Peter Boenning - Associate Professor of Social Sciences
Mindy Boenning - Empire State College
Jessica Jones - Typist English Department
Jessica Jones - Adjunct Instructor Lab Sciences
Dr. Raymond Petersen -Professor of Political Science
Michael Avery - Associate Professor of English
Dr. Christine Grimes - Professor of English
Autumn Kirker - Retention Specialist
Sue Gwise - Cornell Cooperative Extension (at-large)
Mike Lumbis - Community Forestry Representative (at-large)
Mike DeMarco - City of Watertown Planner - Certified Arborist (at-large)
Matt Lambert - Past Chairman (at-large)
Alicia Fessenden - Student Representative
John Kennedy - Student Representative
Elizabeth Perry - Student Representative
Brianna O'Neil - Student Representative
Sustainability Memberships/Affiliations
The EverGREEN Committee has partnered with a network of organizations and offices that share an interest in promoting sustainability. Additionally, Jefferson is: